AI Art will swallow your soul...
Don't ignore what it says, but you don't have to listen
To quote the Genesis song, Land of Confusion," This is the world we live in and these are the hands were given "
We made it to Friday again! Woo Hoo!
I'm just a chap who likes to draw monsters. I'm pretty much the last person you want to listen to regarding the argument and have no standing within any great art community. It's such a hot topic at the moment there a lot of people are enraged.
Honestly, there are bigger things going on in the world to worry about than this bullshit. I'm just trying to take my mind of it by writing this!
This is just my very humble opinion on the whole thing.
Now, before anyone starts yelling at there screens that I'm some form of luddite or thinking that I go around shouting "Thomas Edison was a witch!" just hear me out.
I think technology can be a wonderful thing. The fact I can post work to millions of people is incredible. The Digital art software and hardware and what it can help produce is wonderful. I use Affinity or Clip Studio all the time! So, don't get me wrong, some of the AI artwork looks outstanding. It blew my mind looking at some of the Instagram images. They are spectacular. The detail, the composition, those colours!!!
However, after a while, a bit like Superhero movies, they just started to get a bit boring . " Oh another AI image, (swipe)" etc.
The more I see of the AI art creations the more I get worried Certainly in the Fantasy/ Sci Fi /Horror genre. Regards to horror, I had noticed a lot of them used the same pallet and all seem to look like pale imitations of Zdzisław Beksiński. I have already seen a couple of images used for album covers and other illustrative purposes. I also think the AI art generated in the style of Kim Jung Gi just days after his death was a very low point and raised some serious issues.
I did try out Mid Journey , I thought it would be stupid of me not too. If this was going to be the potential future , I had better take a look rather than be left behind.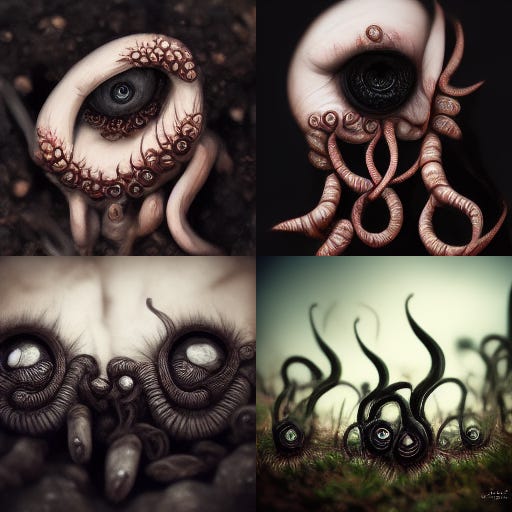 Personally, I found it a soulless experience, to be honest. It was so easy and quick. I suppose that's why people like it.
Stephen Pressfield, in his book The War of Art , writes about the mythical force called Resistance. A universal force that he claims acts against human creativity. It will stop an individual's creative activity through any means necessary. "The most important thing about art is to work. Nothing else matters except sitting down every day and trying" he says. In a nutshell, creating is hard work and not always a success. You have to keep battling to get better. There are no easy routes. However, using these AI generators, you can by pass all those experiences and influences that make you an artist.
Seeing your work improve and mature over time is a wonderful thing. The labour we have put in over the years to hopefully achieve work we are happy with (as artists , we are never truly happy , of course). Also, one of the best things about creating work is the time lost to making it. This is can be writing, music or any creative output. Once I take that sketchbook idea to the next level, via IRL or digital paint and ink , I can lose myself . Before I know it, a couple of hours have gone by. The image may have changed from my original idea, hell it may even look completely different, but that is the journey you take. Happy and unhappy accidents, the use of a different pen or brush making all the difference, the though process changing as you go along. Now, all I need is to look through a thesaurus , type a few words and a few minutes later, viola! Your art is born!!!
Of course, that's the other problem. It's not really your work is it. It's hundreds of different artists work, young and old, dead or alive. The whole of human kinds artistic endeavours, struggles and effort boiled down from a few words and then morphed into a mutant child void of emotion. Let's be frank here, the AI software is stealing work. It's stealing from Old Masters, Newspapers, Pinterest Boards and possibly YOU! They do it in a very subtle and backhanded way. You are not getting the credit, the person using the software is. I think this is a can of worms that will be opened at some point. Leonardo Da Vinci may not be asking for royalties soon, but there are plenty of Artists who are alive that may start asking uncomfortable questions at some point. I have seen images that must have used "Hulk" or "Iron Man" in the word search that I am sure The Mighty Mouse would not be happy about. There is a great article about this subject here.
I think of AI art as a form of resistance. In an age of instant gratification, it's the perfect beast. Look at all this work I have created. Why do the hard work if you go the easy route. Yet you have never picked up a pen or sketched on a bit of paper in your life and call yourself an artist? If you nail four bits of wood together , would you could call yourself a carpenter? I see AI art as a form of Resistance as it lets you by pass all the creative thoughts and ideas you could have had by doing it all for you. What could a couple of hours at the drawing board have created rather than 5 minutes on your phone?
From a purely commercial viewpoint as a working artist, AI is a concern. A prize at a Colorado art fair was recently won with art created by AI. Comics have been created using AI. Why would somebody hire an artist when they can rustle something up with a few words and very little cost.
The more I read up on Mid Journey , Night Cafe and others how they create work just makes me feel uneasy. Plus, we now have AI software being developed for writing books and creating Music.
As idea and concept creators I think it has amazing value. If you use AI software to help spark and form a proposed artwork, brilliant. I'm all for that. Hell, we use a RI software ( Real Intelligence?) as creators everyday. Drawing from all the films we have seen, books we have read, music we have played, stored in our Super Massive Computer known as the Brain.
If you are just using AI Software words to produce a final work instead of helping form that work , don't. You are cheating yourself and the fans of your work. Use it as a tool to help you create even better work. Your better than any software can be, go create something wonderful from you!
If you are using AI software instead of hiring an artist , stop it. You will regret eventually. Your missing out on some great ideas from some great people.
This is just my opinion and , as I have said before, I am just an old fart. I'm not as bad as my Grandfather in regards Technology ( he described mobile phones " may as well be powered by magic" as he could not get his head around how they could even work!). I always remember Video did not kill the Radio Star, as the song goes and the Kindle did not end the printed book.
AI art is here and it's here to stay. How we use it and how it is used going forward is a watching brief.
I'm off to draw some monsters, where did I put my pencil……
cheers
Dan
Thanks for reading Bloody Pens and Sleepless Nights! Subscribe for free to receive new posts and support my work.